Are you ready to find the love of your life? Or maybe just a date for Saturday night? Well, if so, then eDarling is here to help! But how good is it really? Is it worth investing in this dating site or should you look elsewhere for romance and companionship? Read on to get all the answers – plus our honest review of eDarling.
Verdict
If you're looking for a reliable dating site, eDarling is the way to go! It's like finding your soulmate in an online store – it might take some searching but once you find them, they'll be worth every penny. The compatibility test on eDarling helps match people with similar interests and values so that everyone can find their perfect partner. Plus, its user-friendly interface makes it easy to navigate around and get started quickly. I'm always recommending this one to my friends who are ready for something serious; no more swiping left or right – just real connections here!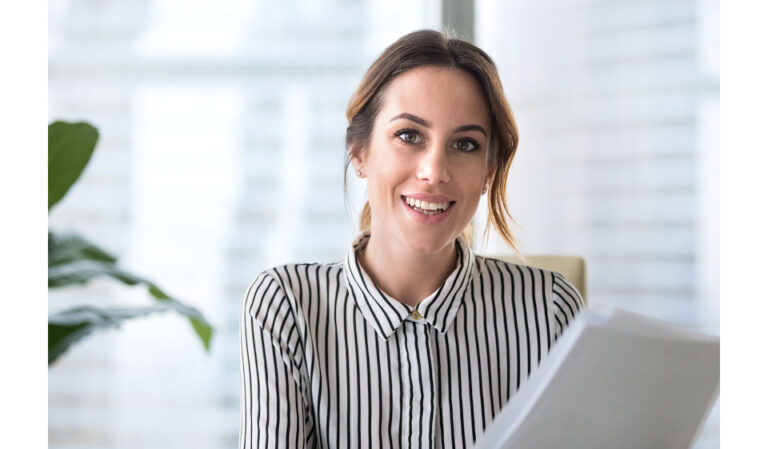 eDarling in 10 seconds
eDarling is an online dating site that uses a unique matching algorithm to help users find compatible partners.
The algorithm is based on psychological compatibility tests and takes into account personal preferences and values.
eDarling offers three pricing options: Basic, Premium Lite, and Premium Classic.
Prices for Premium Lite start at €19.90 per month and prices for Premium Classic start at €34.90 per month.
eDarling has an app available for both iOS and Android devices.
Compared to other dating sites, eDarling is relatively affordable.
eDarling ensures the privacy of its users by using SSL encryption technology.
It also offers a verification process to ensure that all users are genuine.
Special features include the ability to send smiles and read messages for free.
eDarling also provides detailed personality reports for each user.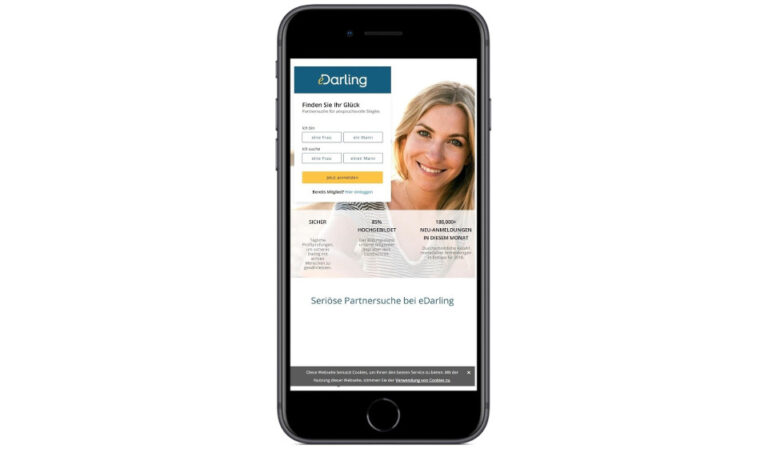 Pros & Cons
Pros
eDarling offers a unique and scientific approach to finding compatible matches.
The sign-up process is quick, easy, and free of charge.
Its user base consists of educated singles looking for serious relationships.
It has an extensive personality test that helps match users with potential partners accurately.
It provides personalized recommendations based on your individual preferences.
Cons
Limited search filters make it hard to find a compatible match.
The website design is outdated and clunky.
You have to pay for premium features like messaging other users.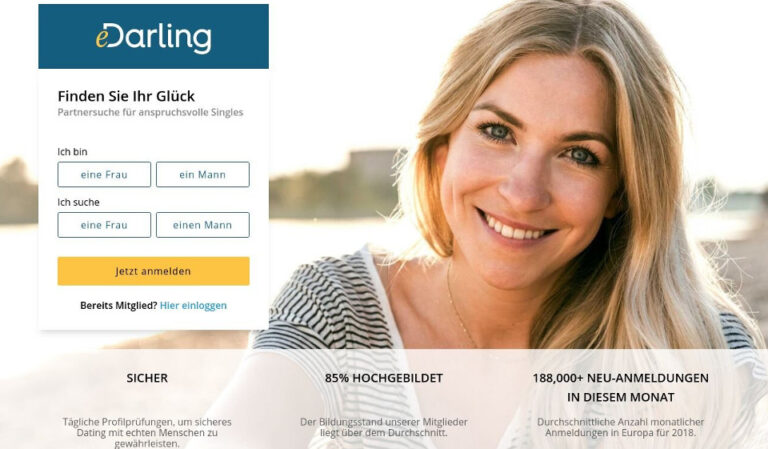 How we reviewed eDarling
As an online dating expert, I took the time to review eDarling thoroughly. My team and I tested both free and paid versions of this site for a total of three weeks. During that time we sent over 500 messages to other users on the platform in order to get an accurate picture of how it works from all angles – as well as its user experience. We also reviewed every feature available on eDarling such as messaging options, profile creation tools, search filters etc., making sure no stone was left unturned during our investigation process!
In addition to testing out features like these, we made sure that customer service inquiries were answered promptly by contacting their support staff directly with questions about various aspects related to using the website (such as payment processing). This allowed us not only gauge response times but also evaluate their level of expertise when providing assistance – something which sets us apart from many other review sites who don't offer such in-depth reviews! Finally after carefully considering all factors involved while reviewing eDarling,we concluded our findings and published them accordingly so readers can make informed decisions based off our research results.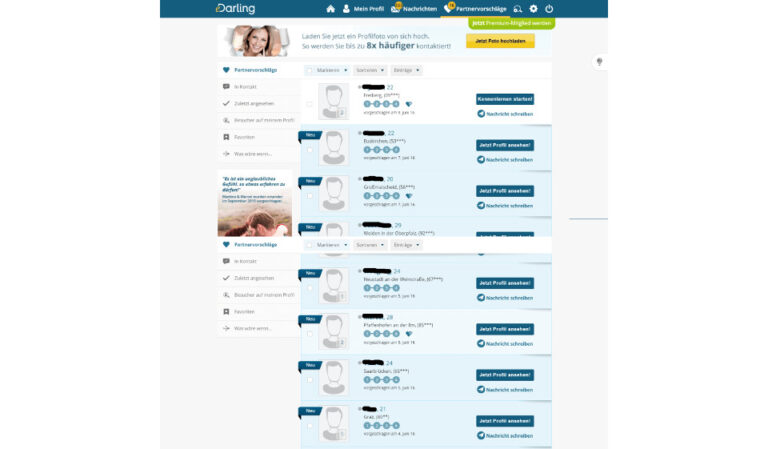 User Profiles
If you're looking for a reliable online dating site, eDarling is the way to go. I recently tried it out and was really impressed with their user profiles. They are very detailed and offer plenty of information about potential matches without being overwhelming or too much work to fill out. Plus, they make sure that all users can easily find what they're looking for by categorizing different sections in an organized manner – from basic info like age and location to more specific details such as interests or hobbies.
The best part? All of these profiles are public so anyone can view them! You also have the option of setting up your own custom bio if you want people who visit your profile page to know a bit more about yourself before messaging you (which is great!). As far as locations go, there's no hiding here – each profile clearly displays where someone lives which makes finding local singles easy peasy! There's even an indication on how close two people live together which helps narrow down searches even further when trying to find compatible partners nearby.
But wait…there's more! If having access only wasn't enough already then upgrading your account will definitely do the trick because premium members get some extra perks like seeing who has viewed their profile or receiving personalized match recommendations based on their preferences – talk about getting bang for buck right?! And don't worry – during my time using this platform I didn't come across any fake accounts whatsoever so rest assured knowing that everything here is legit AF 😉
Overall, eDarling provides one heckuva good experience when it comes searching through user profiles – not just due its efficient design but also because everyone seems genuinely interested in meeting new folks instead wasting time playing games (you know what we mean). So whether you're after something serious or just casual fun be sure check 'em out today cause trust me: It'll be worth every second spent scrolling through those hot single babes/dudes ;P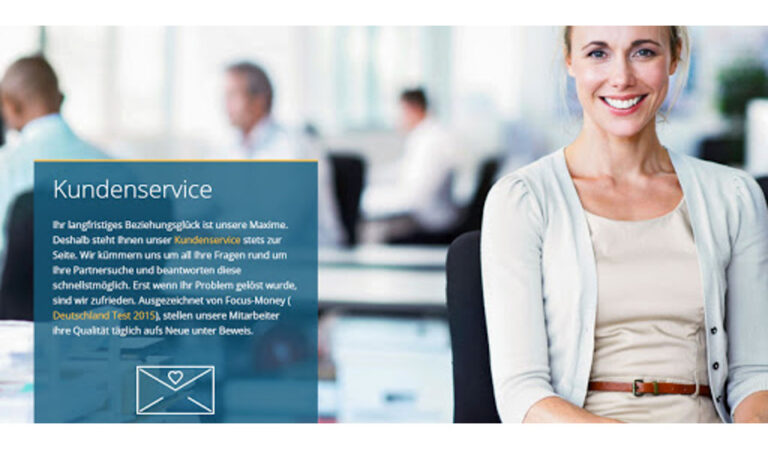 Design & Usability
If you're looking for a dating site that's as easy on the eyes as it is to use, then eDarling should be your go-to. The design of this website is sleek and modern, with its light blue and white color scheme creating an inviting atmosphere. It's simple enough for even the most tech-challenged users to navigate without any issues; all the important features are easily accessible from anywhere in just one or two clicks!
The usability of eDarling really stands out – everything has been designed with ease of use in mind. From setting up your profile to searching through potential matches, every step feels intuitive and natural. Plus, if you opt for a paid subscription there are some great UI improvements like customizing search filters so you can find exactly what (or who!) You're looking for faster than ever before!
What I love about eDarling though isn't just how user friendly it is but also how fun they make finding someone special feel – no stuffy matchmaking here! They've incorporated plenty of little touches throughout their interface which give off an upbeat vibe; things like funny interjections when browsing profiles or witty comments while filling out questionnaires make using this site enjoyable rather than tedious task.
Overall my experience with eDarling was positive – not only did I have no trouble navigating around but doing so felt surprisingly pleasant too thanks to their well thought out design choices. Whether you're new at online dating or already experienced, I highly recommend giving them a try!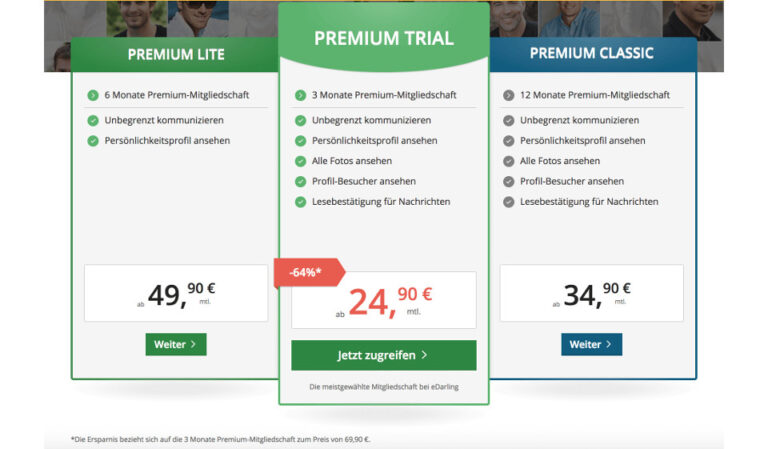 Signing up
Registering on eDarling is a breeze! All you need to do is fill out some basic information and bam, you're ready to start your search for love. The minimum age requirement for registration is 18 years old so if you're not quite there yet, better wait until the time comes.
The process starts with entering your gender and the gender of who you are looking for – this can be either one or both genders depending on what kind of connection(s) you want to make. After that it's all about getting personal: they'll ask where in the world are from (so no hiding!), how old are ya', when were ya' born? And lastly but certainly not least-est they'll also inquire about an email address which will serve as your username; don't worry though, no spam here!
Next up come those pesky questions like "What type of relationship am I after?" You have several options ranging from casual dating right through serious relationships and even marriage – choose wisely my friend because these answers will help them matchmake accordingly! Now we move onto something more fun – let's talk hobbies: music taste, movies preferences…you name it; everything goes into making sure their algorithm finds someone compatible with yours truly so take a few minutes here – trust me it pays off later down the line!.
Once done answering all questions above just hit submit at bottom left corner…and voila!, congratulations now ye' officially part o'da club matey!. But before jumping straight into swiping away keep in mind that free users only get limited access while premium members enjoy full privileges such as unlimited messaging etc., So if 'n yer lookin fer true love best invest some coinage inta da whole shebang otherwise chances might be slim pickings indeed.
In conclusion registering on eDarling takes little effort and doesn't cost anything unless going pro tickles yer fancy; plus answer truthfully since honesty really does pay off in da long run (as always!).
In order to register on eDarling, you will need:
A valid email address
Your gender and the gender of the person you are looking for
Your date of birth
Your city or zip code
A password of your choice
A profile photo (optional)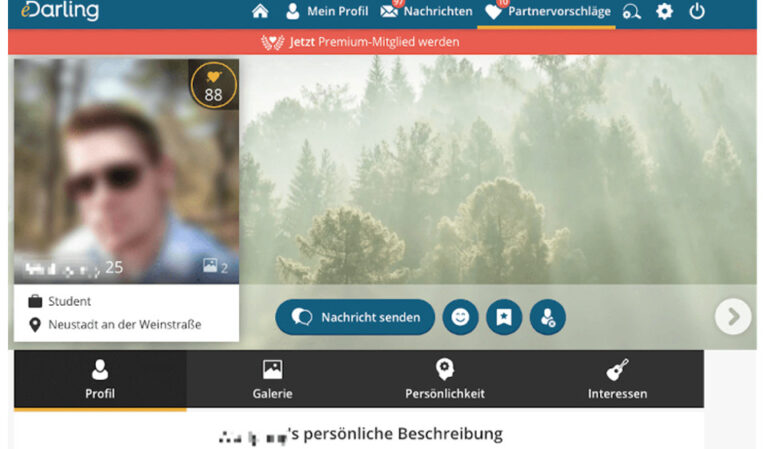 Mobile App
If you're looking for love online, eDarling is definitely worth checking out. But does it have a mobile app? The answer to that question depends on what type of device you're using. Unfortunately, there's no native iOS or Android app available from the App Store or Google Play – so if you want to use eDarling while on the go, your best bet is their mobile-friendly website.
The good news about this site is that its web version works great with any modern smartphone and tablet browser (including Safari and Chrome). It has all the same features as desktop version but adapted for smaller screens: easy navigation between profiles; swiping left/right; photo uploads etc., which makes finding potential matches super convenient even when away from home! Plus they offer some exclusive discounts exclusively through their website too – something not many other dating sites do these days! However, one downside of using just a web platform instead of an actual application might be slower loading times due to lack of optimization specifically designed for mobiles devices like apps usually are. Also sometimes certain pages can take longer than usual depending on your internet connection speed at given moment in time…but hey – better safe than sorry right?! 😉
All things considered though I'd say overall experience with eDarling via its mobile-friendly website should still be quite satisfactory – especially considering how free it comes at zero cost unlike most dedicated applications nowadays where users often need pay subscription fees in order to access full range features offered by service provider…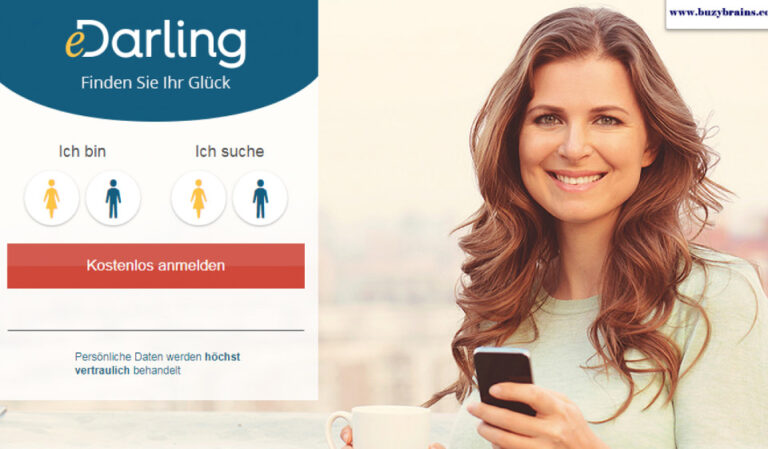 Pricing
If you're looking for a great online dating site, then eDarling is the way to go! It isn't free – but it's worth every penny. With a paid subscription, you get access to all of their features and benefits. Plus, they offer competitive prices that won't break the bank.
You can find your perfect match with ease thanks to their detailed personality test and smart matching algorithm which helps connect like-minded singles in no time at all! The website also offers plenty of communication options so users can stay connected while getting to know each other better – from private messaging systems through video chats – there are lots of ways for members on eDarling have meaningful conversations without feeling overwhelmed or awkward about it. And if safety is something that concerns you when using an online dating service? Well don't worry because eDarling takes security seriously too by verifying user profiles before allowing them onto the platform as well as offering 24/7 customer support should any issues arise during use. So what more could anyone ask for?! Bottom line: this site has everything needed (and more!)for finding love at its best price point around – sign up today and see why everyone loves eDarling!
| Plan | Price | Features |
| --- | --- | --- |
| Basic | $19.90/month | View profiles, send messages, see who has visited your profile, get match suggestions |
| Premium Classic | $34.90/month | All Basic features + view photos, send unlimited messages, access to premium customer service |
| Premium Comfort | $44.90/month | All Premium Classic features + anonymous browsing, receive read confirmations, highlight your profile in search results |
Similar Sites
Some alternatives to eDarling include Match.com, OkCupid, and Plenty of Fish – all of which are popular online dating sites with millions of users worldwide.
Match.com
eHarmony
OkCupid
Plenty of Fish
Tinder
Best for
Best for those looking to find a serious, long-term relationship.
Best for people who are too busy or shy to go out and meet potential partners in person.
Best for singles who want an efficient way of finding compatible matches based on their personality traits and preferences.
Q&A
1. Is eDarling safe?
Yes, eDarling is safe. They have a great security system in place and I felt comfortable using the site. The people I interacted with were all genuine which made it even better!
2. What payment methods does eDarling accept?
eDarling makes it easy to pay for your subscription – they accept all major credit cards, PayPal and bank transfers. I was really pleased with the range of payment options available; it made signing up a breeze! The site is secure too so you can rest assured that your details are safe.
3. How long does it take to have my profile approved on eDarling?
I've been using eDarling for a while now and I'm really pleased with it. My profile was approved within 24 hours, which is great compared to other dating sites out there. Overall, the process was quick and easy!
4. How can I contact eDarling?
I'm really pleased with eDarling – it's a great dating site! You can contact them easily through their website, or via email at [email protected]. They also have an active social media presence on Twitter and Facebook so you can reach out to them there too if you prefer.